The Kinetiq Contract Management module integrates CRM, customer management and billing processes to support a streamlined energy retail sales process for high value customers.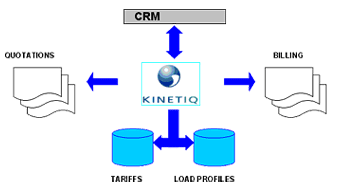 Establish Prospect
Prospect flagged as being ready to receive a formal proposal. Basic details are imported from the CRM to establish the prospect as a potential customer.
Select Product
Kinetiq's Contract Management module offers a selection of appropriate energy products (tariffs) to the sales team.
Generate Quotation
A quotation is generated including a cost illustration of the products being offered with, where appropriate, comparisons against competitors' products.
Establish Customer
On quotation acceptance the prospect is established as a customer within Kinetiq's Billing module to facilitate immediate billing selected products.